CEO Will Barfield Shares Thoughts on Two Years of BRC Sales Recruiting
Barfield Revenue Consulting started two years ago next month (May 2017). With that in mind, we thought we'd interview CEO Will Barfield about his work these past two years and what he has learned. We spoke with him about starting the company, tips for job seekers, and what companies should know before hiring.
Q: Tell us a little bit about yourself — the quick summary.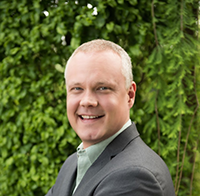 A: I will always think of myself as a career salesperson. Nowadays, I have the wonderful fortune of not just bringing in new business, but I also get to help sales leaders and salespeople with new opportunity identification every single day. I've had 21 years in sales overall, and I led salespeople for about 16 years total. I got into sales in the staffing business 15 years ago. After about a year into the industry, I had an opportunity to try my hand at sales recruiting. The inside software sales job market was heating up pretty significantly in the mid-2000s, but no one in our area was stepping in to truly separate themselves as a specialist in the space. I was given the freedom to test myself as a sales recruiter via some online tools and my local network of connections, and I was able to find candidates and fill some jobs. Once I had that proof of concept, I started pursuing more and more work locally and organically built a sales recruiting specialty practice.

Q: So what led you to launch BRC in 2017?
A: Many of our area's local startup and emerging high-growth companies were in the midst of significant expansion efforts heading into 2017. As much as I loved what I was doing at the time, the opportunity to launch out on my own, to team up with long-time friends, and to work with several new and exciting clients was too good to pass up. Plus, I was extremely fortunate to have built a solid local reputation over the last 19 years of selling here in the Triangle. Thankfully, I had a strong personal brand to rely on out of the gate.
My amazing wife Amy was behind me and supporting me, and so we made the jump — together. Being an entrepreneur and running my own business was not my plan when I started doing recruiting, but we all have to watch for the opportunities that life presents and be ready to grab them, even if it seems a bit scary.

Q: What's your elevator pitch to job hunters? Why should I work with you?
A: I've been in the market selling for two decades. I've spent 15 years building relationships in the sales recruiting space. All together, my team and I have worked with probably north of 75% of the startups and emerging high-growth tech companies in the area. Plus, I'm not just solely in the sales recruiting world around here. I volunteer my time to professional associations and nonprofits, I serve in leadership capacities on several Boards, I lead fundraising campaigns for causes. I try to be everywhere and to always be fostering deep and broad connections with area professionals. Ultimately, BRC is so well networked that someone looking for an opportunity can share with us what companies they are targeting, and many times we are already engaged with those organizations and can score them an interview. Plus, even if a candidate wants an intro to a company that isn't a client — but I still know the right person in the right place — I will still make the connection. This business should be about helping people, and not always for a fee. Karma pays 10x. Unfortunately, our industry can get a bad wrap for just pushing jobs without listening to candidates or for favoring certain openings over others because of which client is more lucrative or whatever. My team and I do not try to talk people into positions. We'd rather talk you out of something, honestly. Good recruiters listen and focus on fit and long-term job satisfaction, not quick wins. I prefer a thorough, frank, and transparent approach, trying to match people with careers they will love.

Q: Sounds a bit like matchmaking or dating. Do you feel your work ever strays into job counseling as you try to match people and companies?
A: I spend much more time during my interviews as a coach and a counselor than I do talking about jobs. I'll spend the first 20 minutes figuring out what makes someone tick. I want to hear his or her career desires, family situations, job preferences, etc. I may come to the call with 15 opportunities in mind that I want to share, but I could wind up only telling them about two. Recruiting should be a mutually-beneficial experience of openness and transparency, not just the "let me tell you what I've got" recruiter scenario. Every conversation my team and I are having with is someone in the midst of a life transition. Maybe they just moved here, or maybe they were just laid off, or maybe they are just unhappy in their current role. Whatever the scenario, they need us to listen and to care. And they will never forget how hard we tried to help.

Q: So what's your pitch to the companies? Why should I pay you to find my candidates?
A: If you're an internal recruiter or a Human Resources leader, or a sales hiring manager, we've got the best revenue-related talent pipeline in town — sales, marketing, customer success … you name it. Plus, with my experience as a career salesperson and sales leader, I get it. I have carried a bag and hired and trained producers. I come at recruiting for others the same way I would as if doing it for myself. Additionally, having been a Society for Human Resource Management (SHRM) member for nearly a decade, as well as a Board member and former Chapter President of Raleigh Metro SHRM, I have been in the trenches with HR and Talent Acquisition professionals for years. I understanding how to work with HR and TA, and I know that the best thing to do is to team with them and work through them as a business partner. You have to hear them and deliver what they are asking for, as opposed to trying to work around them.

Q: What is the main problem or gap you see and address when working with candidates?
A: The biggest faux pas I encounter with sales candidates is receiving a resume isn't statistically-focused. A sales resume must be stat heavy. Don't tell me what you did with just words — show me what you accomplished with a number. My clients need to see that not only did this person exceed goal (this is where most resumes stop), but she sold $2 million last year against a $1.5 million goal. My hiring managers want to see dials per day stats. Demos booked, show rates, etc. If you go ahead and show folks the numbers, interviews will be more about fit and next steps as opposed to spending 10-15 minutes explaining what you did where, how well you did it, etc. Let the resume tell that statistical story so you can focus on "selling" you.

Q: What mistake are you seeing people make on LinkedIn that you tell people?
A: LinkedIn is a living, breathing organism. It is the most important online storefront for your job search. Yet people may have a not-so-professional picture on there — don't use that crooked one that's cropped with half your friend's head in it. And don't put jobs on there and then fail to make sure that the years are accurate and line up perfectly with your resume. Provide a robust profile on there that reads like a resume, spelling out your career history and accomplishments. Company names and job titles are not enough. Note your volunteer work, feature your skills, follow industry-relevant companies that fit the career trajectory you're on. LinkedIn can actually be a detriment to your job hunt if you don't treat it as an essential personal branding tool.

Q: What would be your No. 1 tip for companies out there seeking top talent?
A: Use your network. It is not a job market right now where you're going to have any measure of consistent success just posting ads because people might not think they're looking for a new opportunity and won't click those job links — especially if they don't know you or someone who works there. Folks who are hiring for their companies should reach out to their personal and professional connections to ask for referrals. They should utilize online social channels (like LinkedIn) to post details about open roles. They should ask company employees for referrals and consider incentivizing them. And they can always contact a firm like ours for access to our network, which will quickly accelerate the recruiting process, not only with velocity but also with volume. Outsourced recruiters are working every day to hunt down passive talent, and we utilize every creative avenue at our disposal to find the talent that won't respond to a job posting. But they will respond to us because they know we have the fastest and most direct access to some of the coolest jobs in town.

If you are looking for impressive revenue-generating jobs or candidates, reach out to Will and his team to learn more about how they can help.